We got Jeff outdoor furniture for Father's Day ~ and it is wonderful. It is so nice to just sit outside and enjoy the peacefulness and the laughter of the children as they play.
(Disclaimer) That is NOT my deck in the picture. That IS the furniture though. I am having so many problems with our digital camera!!
We are now looking for another piece of furniture for the deck - something that will allow us to sit outside much longer throughout the year. We are hoping to find an outdoor fireplace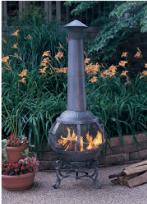 .
This is similar to what we are looking for. This would be so nice to sit outside during the fall and even later in the year (depending on how bad the winter gets.) I am really hoping we will be able to find one of these by the end of summer.