Psalms 37:5 Commit thy way unto the LORD; trust also in him; and he shall bring it to pass.

How many times do we make a decision and commit ourselves to something BEFORE coming to God? Many times praying and asking God for His leadership is an afterthought.

Today, instead of asking God to bless what you are planning, ask God to show you the way HE would have for you, then be committed to following His direction. Trust Him ~ His ways are ALWAYS better than ours!!

Have a great Monday everyone.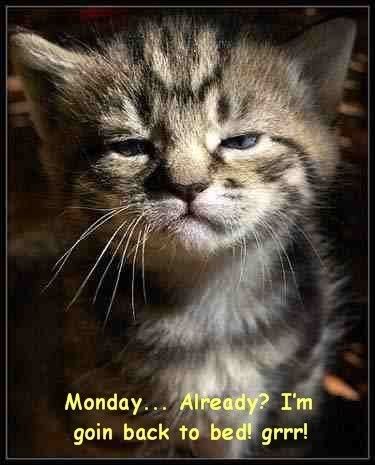 After being on vacation for a week this was kind of how I felt this morning when I was woke up at 5am by the sounds of the blizzard outside our bedroom window.
I have decided the God definitely has a good sense of humor. He took this California sunshine girl and transplanted me into North Dakota and said welcome to the land of extremes....extremely hot summer and extremely snowy winters. And this winter has definitely topped them all!!
You would think after being here for over 22 years that I would be used to the winter ~ NOPE. I still don't care for snow!!! But I do love living in North Dakota and doing exactly what God would have me to do (so I will look past the fluffy, white stuff...or should I say OVER it....and keep my eyes focused on Him.)
Here is the sign we had made to hang outside of our temporary location. We are very excited about where God has us right now. This is a mall that people go walking at everyday. It is a high traffic area and we will get a lot of visibility.

This picture was taken Saturday morning while the men were having their weekly prayer meeting. Things were still looking pretty bare. Since then we have hung things on the wall, gotten some greenery, and hung a beautiful suede curtain in front of the big glass doors at the entrance (to reduce distractions during services.)