Boy, the last few weeks it just seems like my mind has been in a fog. Just last night I told I thought I was finally starting to feel more like my normal self again. Things have just been crazy around here!!!!
In celebration of my normal self finally making an appearance my hubby is giving me the house to myself for 3 whole hours tonight!!!!! Does that sound strange to you?? Well, here is the scoop....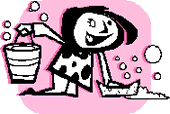 NORMALLY ~~~ I am a cleaning machine. I absolutely LOVE to clean my house. (So, maybe I'm NOT completely normal after all!)
But over the last three weeks I have just kept things "looking" clean to anyone's eyes who might be looking.
So, this evening my sweet hubby offered to take the kids with him while he teaches Bible Institute to give me three whole hours of UNINTERRUPTED, DEEP CLEANING!!!! I am so excited!!!! Watch out wall, doors, doorknobs, cabinets, and any other dust bunnies that my be hiding......HERE I COME!!!!!!